January 29, 2023, 11:32 am
My Christianity
Title: I Survived An Abortion
Author: David.M.Clark
Published: 1999
Notes:

On May the 26th, 1961, a baby boy named Robert was born in Brisbane.
For whatever the reason, he was given up for adoption by his natural
mother and became the son of a good and honest woman and her hard
working husband.

Three years later his parents' marriage would end and he would live in
the comfort of his mother's love despite the next eight years being
subjected to drunken cruelty from his mother's de-facto.

At the age of ten the boy would meet a little girl who would become
a very big part of his life. He carried her always in his heart as she
carried him in her heart. Two years later they would be separated by
distance for many years.

The boy continued to live in Brisbane with his mother while she worked
her fingers to the bone to give him a good home and a good education.
The boy grew to be a young man forever influenced by the strong
character in the woman who raised him.

At the age of 21 the young man would lose his mother to terminal
cancer. A slow and painful death that no person should ever endure, no
loved ones should have to stand by and watch.

For four years he lived in turbulent relationships that all had no
future and inflicted on him more 'insult to injury'.

In 1986 he would be re-united with the little girl he met when he was
nine and within twelve months, they were married.

He lived in a truly blessed marriage with the woman he adored and
their two beautiful and happy boys, who grew up to be fine and loving
young men.

As he reflects on his life he says "Thank you". A "Thank You" to his
mother, to his beautiful wife and family. "Thank You" to all the people
that have been in his life so far.

There is one final "Thank You" that this man must say, a "Thank You" to
the woman who carried him for nine months. For living in a time where
an unborn child's life was threatened by the marvels of medical
science. A time in which his natural mother could have elected to have
an abortion. Had this happened, this right to kill an unborn child, he
would not have known the many wonderful people that have touched his life.

This is my story.

David.M.Clark

Attempts to publish my story

This article was submitted to several of the mainstream magazines here
in Australia some years ago as there were a lot of pro-abortion articles
coming out through them to the public at the time. This article was refused
as it "did not meet the suitable subject material" for the said magazines
at that time.

I do not judge you

Please believe that I did not write this to bring condemnation on any
woman who has had an abortion for I cannot comprehend the pain having gone
through such an ordeal - what pressures life has subjected her to - but
what I do ask is once you have read this article, that you please dont let
any more of our little ones not make it into this world. They deserve a
chance just like I had.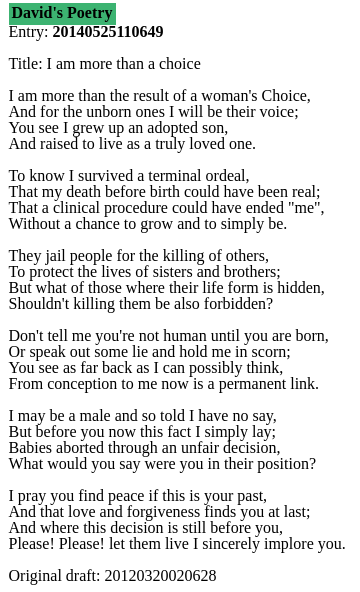 (c) 2023 David.M.Clark 1961